Are you looking for a new lawn mower but wonder which one to buy? We give help on How To Buy Lawn Mowers Of Any Type. Find our best lawn mower recommendations.
Nicely mowed lawns don't just happen. They take effort. How the lawn is mowed and the type of lawn mower used make a big difference.
Before getting into the details about how to buy a lawn mower, let's take a quick peek at some nicely mowed lawns. Wish they were yours right?
Here are the topics we address to help you know How To Buy Lawn Mowers.
How To Assess Your Lawn
The following questions will help you to assess your lawn. Your answers will help you to buy the lawn mower that best suits your lawn conditions.
✓ What size is it?
✓ Does it have a lot of trees and flower beds to maneuver around?
✓ Is there a large area of straight mowing?
✓ Is the area grass only or does is it rough with stones and such things?
✓ Are there any hills or inclines? What is the degree of the slope?
How Lawn Mowers Work
Learning how lawn mowers work will help you to make a better lawn mower purchasing decision. They differ in how they cut the grass and how they are powered. Let's look at each of these topics.
How Is Grass Cut
Reel mowers cut the grass keeping it healthier because the grass is clipped like the action of a scissors. Rotary mowers tear the grass by using rotating blades causing the potential for disease. Rotary mowers have the most models available which include push, self-propelled and riding.
How Are Lawn Mowers Powered
Gas powered require separate gasoline and oil tanks to operate for two-stage models. Single-stage models have the gas and oil mixed. Electric mowers totally rely on electricity fed through a cord. Cordless mowers are battery powered. Gas powered mowers have the most models available on the market today. Reel mowers rely on humans pushing power.
Lawn Mower Type Basics
✓ Front wheel drive is best suited for flat lawns.
✓ All wheel drive self-propelled is best for slopes. Rear wheel drive is second best.
✓ Zero turn mowers maneuver easiest for an abundance of turning.
✓ Gas self-propelled mowers are best for larger yards.
✓ Tractor driven mowers are best for very large areas.
✓ Electric or gas push mowers are best for small yards.
✓ Electric mowers are quieter than gas mowers.
How To Of Lawn Mower Types
Many lawn mower types exist. Their differences are most notable when it comes to operator positioning when using them, how they are powered and how they are maneuvered. The following will explain what each of differences means.
How To Of Operator Positioning
Two operator positions exist: The walk behind and the riding. Let's discuss the different positions for each type.
✓ Walk Behind
The Push and Walk Behind mowers require the operator to stay behind the mower when cutting the grass. The amount of energy required to move the mower forward depends upon how the mower is powered. The push reel mowers require the most effort and the self-propelled require the least effort.
✓ Riding
Riding and Tractor mowers require the operator to sit on the mower seat when cutting the grass. The engine power moves the mower. The greatest amount of physical energy is expended when maneuvering the mower
How To Of Power
There are four types of power for lawn mower types: Battery, Electric, Gas and Human. Let's look at the role of power in the lawn mower types.
✓ Battery Powered or Cordless
Cordless mowers depend upon batteries to operate. Lithium ion batteries are used most frequently because they have a longer run time due to their higher voltage which ranges from 40 to 80 volts. The average run time is around 45 to 60 minutes. Battery recharging time varies by battery and charger, some take 30 minutes whereas other take 2 or 3 hours. Starting is as simple as pressing the start button.
✓ Electric or Corded
Corded mowers require electrical current to operate; therefore, they do not require recharging. They can run as often and as long as there is electricity. The biggest challenge is finding enough outside outlets close enough to the grass to be cut. Extension cords can be used; however they must be classified for outdoor use and heavy duty voltage plus they should not exceed a maximum of 230 feet. The power of an electric mower is measured in amps. Starting is easy. Simply flick a switch or turn a key,
✓ Gas Powered
Gas powered mowers require gasoline to operate. The four-stroke (four cylinder) engine require fresh unleaded gasoline with an octane rating of 87 or higher. Gas with ethanol can be used if the percent of ethanol is 10 percent or less. The two-stroke (two cylinder) engine requires the same type of gas, but with the addition of a high-quality two-cycle engine oil. The proportion of gas to oil varies by brand. A fuel stabilizer added to a full tank of gas that is not used for more than 30 days prevents the gas from breaking down and damaging the engine and carburetor. Gas provides more power than electricity or a battery. Electric start gas mowers start with the turn of a key or push of a button. Others rely on the pull of the recoil starter handle and the spark created by the spark plug to ignite the fuel and air mixture delivered to the combustion chamber. The combustion of the fuel injected into the combustion chamber and ignited by a spark plug forces the engine piston, which is connected to the crankshaft, down. The cyclical movement of the crankshaft spins the blade.
✓ Push Reel
Push Reel mowers require human power only. The push reel of today is not like the old clunky push reels of the past. Many of the newer models have front guiding wheels for easier pushing. The adjustable height handle also decreases the amount of human effort required. The gears make the blades turn.
How To Of Maneuvering
Each type of lawn mower maneuvers differently. Let's look at how each type handles straight line mowing and maneuvering around things
✓ Mowing In A Straight Line
Mowing straight ahead is affected by mower weight and wheel power location. Walk behind mowers require the operator to walk behind and guide them. Walk behind models are also known as push mowers which can be further classified as Push or Self-propelled. Push mowers rely on operator strength to move them. Self-propelled move on their own power but, require the operator to guide them. Riding mowers are built to move on their own as the operator guides them while seated.
An All-wheel mower has equal balance and power in all four wheels which makes straight line mowing easy and fast. A Front wheel mower has its balance and power found in the front wheels. It requires more effort to move it forward and stay in straight lines. A Rear wheel mower has its weight and power in the rear wheels which makes pushing easier and straight line mowing easier.
✓ Mowing Around Things
Maneuvering to mow around things can be challenging with some mower types. The Zero-Turn mower is the easiest to maneuver. Its weight is in the rear wheels and it is built to turn so no grass is missed at the turn. An All-wheel mower is more difficult to control when maneuvering because power is found in all four wheels. Rear wheel driven mowers are easy to maneuver because the weight is in the back therefore it is a matter of tipping the mower up and turning on the back wheels. The Front wheel drive mower is the most difficult to maneuver. In fact if there is a lot of maneuvering required this is not a recommended lawn mower.
How To Of Lawn Mower Maintenance
Each type of lawn mower maneuvers differently. Let's look at how each type handles straight line mowing and maneuvering around things
✓ Lawn mower maintenance varies greatly by mower type. Let's see what maintenance is required by type of lawn mower.
✓ A reel mower only requires cleaning the blades, removing excess grass clippings and keeping the mover protected from the elements so it does not rust. The blades can be sharpened by using a grinding stone and grinding paste.
✓ Electric mower maintenance is simple. Make sure the cord is in good working condition with no bent plug from stretching on the cord. Clean the undercarriage, vents and blade after every mowing. Keep the blade sharp Replace the battery when needed. Refrain from mowing when it is raining and store the mower from the elements when not in use.
✓ Cordless battery powered mower maintenance is the same as the electric powered mower except that a charged battery is required for each mowing. A well charged battery can give up to 45 minutes of mowing time. Lithium-ion batteries used can be recharged in as little as 30 minutes.
✓ Gas powered mowers required the most maintenance. Like the other types of lawn mowers the deck and blades after each mowing; however the gas powered mowers have additional maintenance requirements. After every 50 hours of moving, the engine oil and filter should be replaced and for sure at the end of each mowing season. During the mowing season, the engine oil level should be checked. At the end of each mowing season the gas should be completely used up or removed. Every new mowing season requires new spark plugs because it is the spark plug that ignites the fuel in the engine to keep it running smoothly.
What Is The Best Type Of Lawn Mower
To understand the best type of lawn mowers we will present a list of the many types of lawn mowers and then provide the pros and cons of each type.
The Lawn Mower Types
Here are the lawn mower types to be discussed.
To see a specific mower type immediately click on that type; otherwise scroll down the page to see them all.
The Lawn Mower Type Pros Cons
Each of the above mower types will be explained including their Pros Cons and
what the best conditions are for using that type of mower.
Zero Turn Lawn Mowers
Zero turn mowers are rear wheel driven. They have two handles (lever). Pushing the levers forward causes the mover to go forward. Pulling the levers back causes the mower to reverse. The name of the maneuvering comes from the fact that the mower needs zero radius to turn.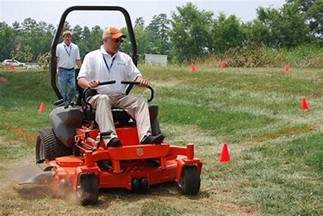 ✓ Trimming and turning around things is easy.
✓ Blades move at a high speed and cut the grass very well.
✓ No grass is missed at the turn.
✓ It takes time to get used to the two levers.
✓ They are harder to control on slopes.
✓ Possibility of tipping is high on slopes greater than 10 to 15 degrees.
✓ The cost is higher.
✓ Flat terrain
✓ Area more than 1/2 acre.
All Wheel Drive Lawn Mowers
An all-wheel drive mower distributes an equal amount of power to all four wheel.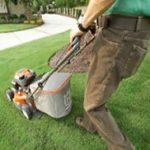 ✓ The mower is more balanced and stable.
✓ It easily handles hills, thick grass, and tough terrain and allows maximum control and maneuverability
✓ It moves fast.
✓ Maneuvering this type of mower is more difficult because the speed must be lowered or the drive disengaged.
✓ It is more expensive.
✓ Good on hills, uneven terrain, thick grass and even wet grass
✓ Area more than 1/2 acre.
Front Wheel Drive Lawn Mowers
A front wheel driven mower has its weight and power in the front wheels. Maneuvering is done by pivoting the mower on its rear wheels.
✓ Mows well on flat surfaces.
✓ Changing directions is easy because there are no levers to use or speeds to change.
✓ Maneuvering is done by pivoting the mower on its rear wheels.
✓ It is most affordable.
✓ When the front wheels are not firmly on the ground, the mower does not move well.
✓ It does not push as easily as a rear wheel or four wheel drive.