The Battery Operating Lawn Mowers
Eco-Friendly and Quieter Than Gas Powered Mowers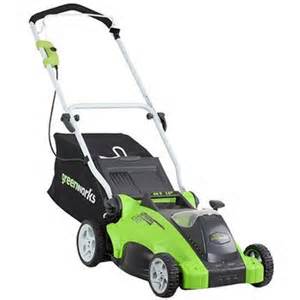 The best-selling cordless lawn mowers will provide information about the cordless or battery operated lawn mowers on the market. If you are a homeowner, you have a chore that you must do every spring, summer and fall, which is cutting the grass. You may live in an area that is concerned about the environment and using a battery operating mower may just fit your need. Battery or cordless mowers are Eco-Friendly and more quieter than the gas powered models.
If you are considering a battery powered operating mower, you need to do some homework first. Some of the decisions you will need to make are mentioned below:
Blade cutting width – The wider the blade the less passes are required to mow the whole lawn.
Battery operating cutting time – The mowing time between battery charges. Will a single charge complete the mowing of the entire yard.
Adjustable cutting heights – Allows for taller grass to be cut without causing damage to the engine.
Weight of the mower for storage – The lighter the mower the easier to push and to hang up for storage.
Your budget – Determines which battery powered mower you can afford with the appropriate features.
All of the above are important factors in determining the proper battery powered mower for your mowing needs. Each of these features may cause the price of the mower to be more expensive. So, your budget will also play an important role in the decision making process.
This article includes information about the sixteen top selling battery operating lawn mowers on the market. By using a comparison chart you can glance at the features of all of them. Look over each feature and select the model or models that may fit your grass cutting needs.
Table of Topics
Select a topic of interest by clicking on any link below. Or, you can scroll down and view them all.
Video of Five Cordless Mowers
Below is a short video of a head to head match-up of five cordless mowers. Take a look!
Back to Best Selling Cordless Lawn Mowers Topics.

Can I Save Money Using A Cordless Mower?
This is an excellent question. To answer it will be determined by each homeowner. The critical factors depends upon the following:
Yard size – Not every yard is the same size.
The rate of grass growth – Varies from area to area.
The climate and amount of rain – Varies depending upon location during the growing season.
If you should have a small yard, you might consider using a push reel mower. It's also Eco-friendly and does not use a battery or gas to operate.
To determine if using a battery operating verses a gas powered mower you will need to know the following:
Cost of gasoline being used for the mowing season
Cost of oil use
Cost of replacing the fuel filter if it has one
Cost of using fuel stabilizers
Cost of replacing the spark plug
Time/cost in performing the oil, and spark plug maintenance or having it done.
With the battery powered models you will need to know the following:
Cost of replacement batteries
How long does a battery last before it needs to be replaced
Charging time of a depleted battery
Will the battery mow the yard on a single charge
In some cases, it may be a wash for using the battery verses the gas powered mowers after the cost comparison. However, in many situations, most homeowners probably will save some money using the cordless verses the gas powered models. This is especially true for the environment as battery powered mowers does not emit fumes into the air as compared with the gas mowers. Many cordless mowers are less noisy than their gas powered competitors which saves your hearing.
Back to Best Selling Cordless Lawn Mowers Topics.

Comparison Chart
Below is the comparison chart for the eighteen most popular cordless mowers. You can easily compare them looking for some specific features. All of the models are CARB compliant. The prices listed in the chart are subject to change do to any discounts being offered at the time the order is placed. The time of season will also have a bearing on the price and discounts being offered by the seller.
Back To Top of Page
The chart consists of the following columns:
Manufacture
Model Number
Battery Voltage
Cutting Width
Cutting Height
Warranty
Price (Note: The price of these mowers are subject to change without notice and may not be the actual price you pay at checkout)
Weight
Battery Run Time (This time may vary due to the thickness and height of the grass. Times assume normal cutting height of up to 3.5 inches).
| | | | | | | | | | |
| --- | --- | --- | --- | --- | --- | --- | --- | --- | --- |
| Manufacture | Model # | Battery | Cutting Width | Cutting Height | Warranty | Price | Weight | ASIN # | Battery Run Time |
| Black & Decker | MTC220 | 20V | 12″ | 1.6-2.4″ | 2-Years | $208.95 | 14.4 lbs. | B00HH4K548 | 30 Min. |
| Black & Decker | CM1640 | 40V | 16″ | 1.1-3.1″ | 2-Years | $329.00 | 38 lbs. | B00HH4K8E0 | 30 Min. |
| Black & Decker | CM1936 | 36V | 19″ | 1.5-3.5″ | 2-Years | $399.99 | 72 lbs. | B002YK4UZU | 70 Min. |
| Black & Decker | SPCM1936 | 36V | 19″ | 1.5-3.5″ | 2-Years | $449.00 | 92 lbs. | B004JMZH3A | 70 Min. |
| Earthwise | 60120 | 24V | 20″ | 1.75-3.75″ | 2-Years | $286.57 | 101 lbs. | B001DZJYJO | 40 Min. |
| GreenWorks | 25302 | 40V | 20″ | 1.375-3.375″ | 4-Years | $314.99 | 42.5 lbs. | B00GX9WNP2 | 40 Min. |
| GreenWorks | 25322 | 40V | 16″ | 1.25-3.375″ | 4-Years | $279.99 | 37.5 lbs. | B00BBQVL5U | 40 Min. |
| GreenWorks | 25223 | 40V | 19″ | 1.3-3″ | 4-Years | $369.10 | 53.1 lbs. | B00K4S7K6U | 40 Min. |
| GreenWorks | 2501302 | 40V | 19″ | 1.125-3″ | 4-Years | $199.99 | 65 lbs. | B00TMTMHKQ | 40 min. |
| Ego Power+ | LM2001 | 56V | 20″ | 1.2-3.5″ | 5-Years | $899.00 | 57 lbs. | B00NOGZCI2 | 45 Min. |
| Sun Joe | iON16LM | 40V | 16″ | 1.2-3.2″ | 2-Years | $361.18 | 33 lbs. | B00IP1MG2Q | 40 Min. |
| WORX | WG782 | 24V | 14″ | 1.8-3.3″ | 2-Years | $229.00 | 30 lbs. | B005QR47PQ | 40 Min. |
| WORX | WG775 | 24V | 14″ | 1.8-3.3″ | 2-Years | $219.98 | 32 lbs. | B007PC67L2 | 30 Min. |
| WORX | WG772 | 56V | 19″ | 1.25-4.0″ | 3-Years | $392.11 | 64 lbs. | B00Q6EH354 | 45 Min. |
| WORX | WG788 | 36V | 19″ | 1.5-3.5″ | 2-Years | $359.78 | 87 lbs. | B003BJG8SA | 40 Min. |
| GreenWorks | 2500502 | 40V | 19″ | 1.25-3.5″ | 4-Years | $449.99 | 50 lbs. | B00TZED1JO | 40 Min. |
Back to Best Selling Cordless Lawn Mowers Topics.
Back To Top of Page
Yard Size
The size of your yard will be the deciding factor if a cordless lawn mower is right for you. Yard sizes in excess of 8,000 square feet will require a battery with sufficient run time to allow you to finish mowing on one charge. Otherwise, you may require a second battery to finish the job. Some models do come with an extra battery which will extend the run time.
If you have a small lawn with plenty of shrubbery or trees to cut around, consider a mower with a narrower cutting path. For Larger, rectangular or square lawns will benefit from a mower with a wider cutting path.
Another option for small yards is using a push reel mower.
Another factor to consider is the yard level or near level. If it is, no problem. However, if you should have a large slope greater than 15 degrees, you may have some difficulty in cutting the grass normally. For this type of terrain you will have to mow differently. You should read the owner's manual for this information. If it's missing, contact the manufacture.
Back to Best Selling Cordless Lawn Mowers Topics.

Power
The power of the cordless mowers has improved over the years, but, the gas powered models will provide the power until the gas is all used up. Using the cordless model, you may see or hear the engine perform at a less proficiency as the battery power is being drained.
The batteries (according to the chart above) provide power from a variety of times and average about 40 minutes before they need to be recharged. Some models come with an extra battery which will extend the cutting time.
A great feature about these cordless models as they do not require an extension cord to lug around which is a huge plus.
Back to Best Selling Cordless Lawn Mowers Topics.

Performance
How does the performance of the cordless models compare with the gas powered? Generally speaking, they are on par with them. Many of the battery mowers have a single lever for height adjustment of the entire deck, verses wheel by wheel on gas mowers.
Another important factor is how the mower disposes of the grass clippings. Cordless mowers can have a rear discharge bag, a side discharge chute or a mulching option. Gas powered mowers also offer the same options. With the mulching option, the clippings can stay on the lawn without having to rake them up after the mowing session.
Most of these mowers do not have a self-propelled option. The mower requires you to push it using your own strength. However, there are some that do have this self-propel function. This option though might come at a higher price.
Most of the cordless models require the use of a key to start verses the gas powered that use a pull of the cord. Some gas-powered models do come with an electric start feature.
Back to Best Selling Cordless Lawn Mowers Topics.

Mower Design
You need to take into consideration the mower design of the model selected. The materials like the cutting blade is made of will make the mower heavier or lighter for pushing. This will make it resistant to gouging, nicks, and scrapes. Also, a heavier mower will be difficult for homeowners who have issues pushing a heavy machine around with a full bag of clippings.
To aid in this situation, look for a model with large wheels. This will make the mower easier to turn and push if you should have a lengthy lawn.
Back to Best Selling Cordless Lawn Mowers Topics.

Warranty Information
After you have selected a model, contact the support area and find out more information about how the warranty applies to the specific model. Under what conditions does the warranty cover? What location do the warranty repairs take place? What is covered under the warranty? What actions can cause the warranty to be voided? These are just a few questions you might want to ask the representative. Ask other questions regarding the model you have some concerns about. Before purchasing, you want to feel good about buying their product.
Rate the rep responses to your questions on a scale of 1 to 10. This will help you get a feel of how they will treat a potential customer of their product. If you feel comfortable, then consider buying this mower as this company will give you great service and support. If on the other hand they do not give you good answers, then consider the second choice and contact that company by asking them the same questions. You could do this with all of the models you are considering, and then make your selection.
The reason for doing this is that you are paying a lot of money for a machine that is supposed to cut your lawn. The grass grows regardless if the mower is ready to function or not. Some companies are better in providing good customer service verses others. You will have to decide on which one does the job best.
Back to Best Selling Cordless Lawn Mowers Topics.

Echo-Friendly
A cordless mower is an Eco-friendly machine that is a better alternative to a gas-powered mower. If you should live in an area where they require residents to use Echo-friendly mowers, this will meet the condition and do the job well. The bottom line for you is to determine which cordless mower is the right one for your cutting needs.
Back to Best Selling Cordless Lawn Mowers Topics.

Maintenance
There is very little maintenance that must be performed with the battery lawn mowers. This is where you will experience some savings over the gas-powered mowers. You will need to recharge the battery after every mowing session, sharpen the blade periodically, and clean under the deck. Other than that, there is nothing else to do regarding maintenance. The only cost for battery mowers is that the battery will have to be replaced at some point in time. Find out the cost of the replacement battery.
Battery:  Never completely discharge the battery. Doing so will reduce its storage capacity. Keep the battery consistently charged, but be aware of your battery's charging system type. Most battery charging systems feature a smart charger. The smart charger knows when your battery's charge has reached full capacity, and subsequently protects it from being overcharged. For all other chargers, remove your battery once it has reached its full charge to prevent damage.
Below are some helpful tips:
Be sure to clean the mower decks bottom prior to storage. Use a sharp scrapper to clean. To prevent future buildup, spray the underneath with cooking oil.
Check the blade for dullness and damage.
One additional spot check you should do before any mowing session is to look for any loose screws or bolts and tighten if found.
Make sure the components of your battery's charging system are not damaged. Check the charger, its cord and battery frequently for any new wear or tear.
In the off season, store your battery according to the instructions in your mower's user manual. Most batteries can remain off the charger in the winter, but may require maintenance every month or two. This maintenance often consists of simply charging the battery to full capacity, and then returning it to storage.
At the end of the season, just place the mower in the designated space or area.
Back to Best Selling Cordless Lawn Mowers Topics.

Shop Cordless Mowers
Below are the sixteen best-selling cordless mowers on Amazon. Click on the image for the mower you are interested in knowing more about. You will be taken directly to the ordering page where there will be information about the product and you will have access to the customer reviews.
The price information that is provided will change from time to time based on any discounts being offered at the time the order is placed. Also, the time of year when the order is placed, will also play a part in the pricing. Purchasing a lawn mower in late fall and in the winter months will bring lower prices.
Go back to the Snow Blowers And More home page.
Back to Best Selling Cordless Lawn Mowers Topics.